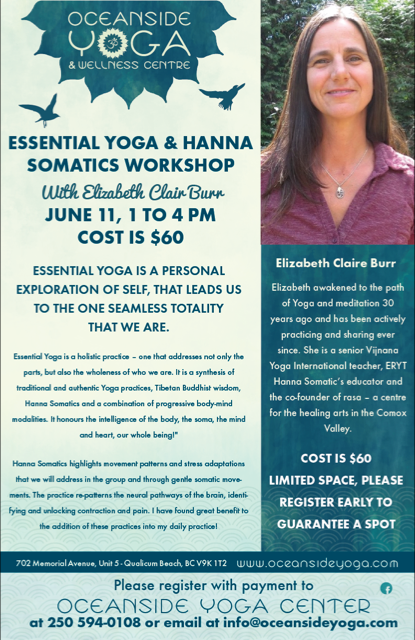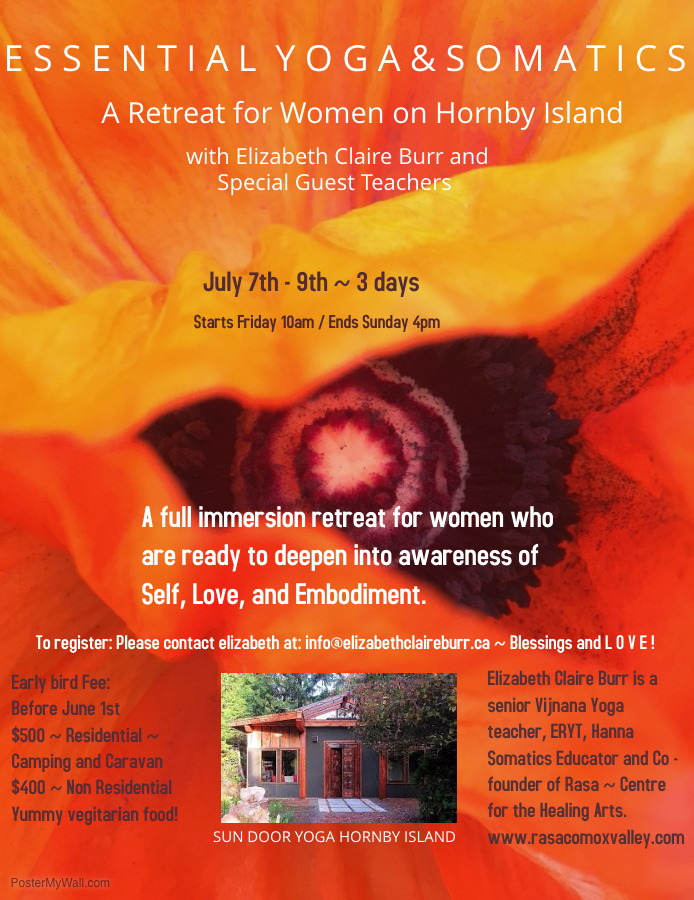 Wide Heart
A Retreat for Women w/ Dayna Davis & Elizabeth Claire Burr
August 27 – September 1, 2017, Hollyhock, Cortes Island 
The ocean, the deep forest. A circle of women with sacred intention.
Through the practices of essential yoga, awareness meditation, sacred dance, story and song we will evoke the wide open heart. Emerge deeply nourished and inspired on your path.
To Register please follow this link: https://hollyhock.ca/programinfo/burr-davis/
 'The essence of an adventure is not to know the outcome. The essence of a joyous adventure is not to need to know the outcome.'   Johanna Macy
Esential Yoga and Somatics Classes ~ at Rasa
8 week session ~ April 13 – June 2
Thursday 4:30-6pm
Friday 9:30 -11:30am
Classes are open to all levels and include awareness meditation, gentle breath exploration, essential yoga and somatic exercises and inquiry.  They are semi-private classes, limited to 10 participants for a deeper more intimate learning experience.
The learning container is safe,non competitive and is focused on nonjudgmental and compassionate awareness.
Fee:
1 class a session $160 (gst included)
2 classes a session $240 (gst included)
Please pre-register to ensure your place by sending a deposit of 1/2 the ammount to Elizabeth Burr at 8929 McLarey Ave, Black Creek,B.C. V9J 1A3
If you have any questions please contact Elizabeth at info@elizabethclaireburr.ca