Somatic Yoga & Cedar Bark Weaving
Nov 8 – Nov 11, 2019
Linnaea Farm
Join a circle of women who are ready to deepen into the transformative practices of Somatic Yoga, Meditation, Deep Nature Connection and Creative Exploration through Cedar Bark Weaving!

Our retreat begins with a shared meal at 6:30pm, Friday Nov 8 & completes 11am, Monday Nov 11.

Retreat fee ~ $275

Nourishing Food ~
$75 ~ 3 dinners and 2 lunches provided by inspired food artist Connie Earl. Please bring your own breakfast supplies.

Accommodation for 3 nights in Linnaea's rustic farmhouse ~
Bring your own bedding $90
Bedding supplied $180
Total Investment ~
Without bedding $440
With bedding $530
Local non-residential $350

REGISTRATION OPEN NOW ~ to join in please send the full fee + gst by pay pal or interact deposit to info@elizabethclaireburr.ca

We will practice …

Somatic yoga – practicing and sensing from the inside.
Through gentle somatic movement and awareness we literally lay down new neural pathways to clear our brain / soma communication. This allows us to let go of past trauma and held latent impressions that may be standing in the way of freedom and flexibility in mind and body. By self sensing we reclaim our inner authority and begin to self actualize. Moving from contraction and pain to liberation and freedom.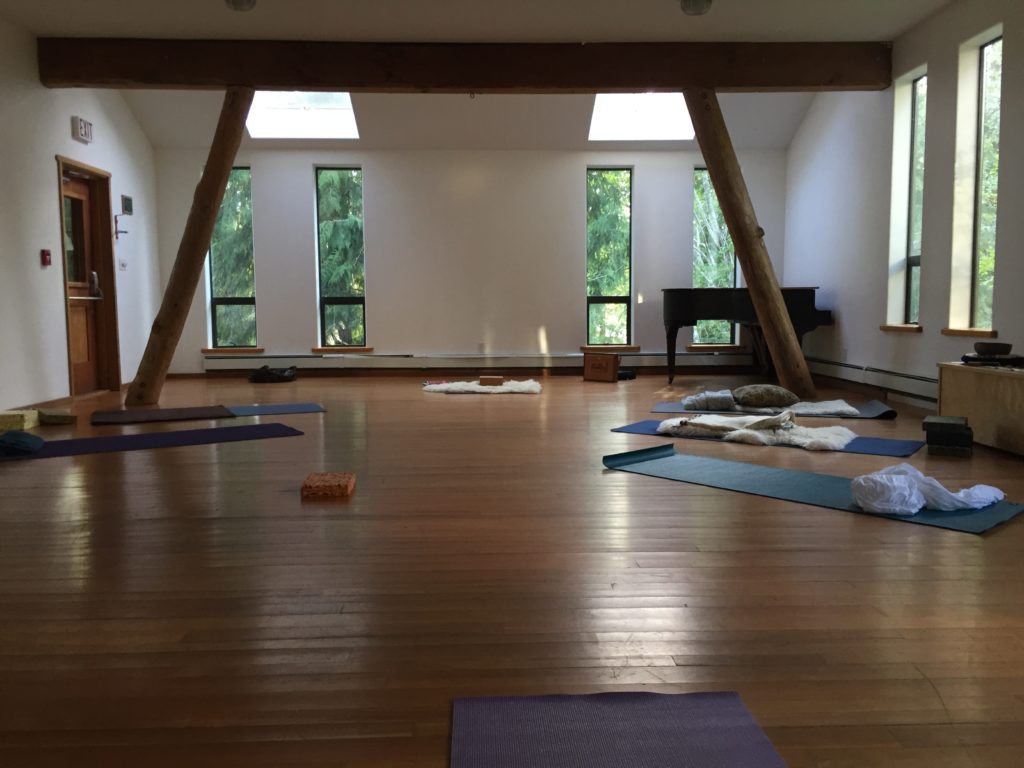 Open Awareness Meditation
Based in the Tibetan Buddhist teachings open awareness meditation accesses our innate clarity, bliss and non-conceptuality and helps to cultivate an open heart and relaxed flexible mind.

Cedar bark weaving – creative meditation.
Weaving is a ancient form of sharing and meditation practiced by women all over the world and in all traditions. Weaving with sacred cedar bark, in a circle of women with Amy who is an inspired weaver and teacher is a profound healing unto itself. She will introduce basic weaving practices and we will all go away with a cedar mat to practice our meditation on! I am so honoured to be offering this retreat along side my dear friend and amazing artist, Amy Robertson.
Nature Connection
Forest walks and a nature based vision quest.
Linnaea Farm
Is a 315 hundred-acre farm in full protective convenance on beautiful Gunflint Lake, Cortes Island. It is farmed according to the principles of Perma Culture and is supported by a group of dedicated stewards who loving tend to the flora, fauna and buildings on the land.
It is an honour and a privilege to be invited to offer a retreat on this very special land!

http://linnaeafarm.org/
Facilitator Bios

Amy Robertson

Amy began weaving in 2002 on Cortes Island with aged cedar bark found on the forest floor. Soon after, she learned the craft of willow weaving and combined the materials to make bike baskets. In 2011, preferring the flexibility and quality of cedar, Amy met a Haida Indigenous teacher in Massett that was willing to share her knowledge of both harvesting and weaving techniques. Since then, Amy has returned each year to study with Marlene Liddle, and now produces a variety of woven baskets, covers for bottles & books, placemats, card-holders and bracelets. Her work has been shown in Vancouver, and on Quadra, Cortes, and Vancouver Island. Amy teaches wherever there is interest, providing a range of materials, styles and projects to anyone wanting to explore their creativity. You can join her mailing list on her website at www.amyrobertsonweaving.org
Elizabeth Claire Burr ERYT

After a spontaneous awakening in my 30's, I actively sought and found healers, teachers and teachings that could help make sense of the experience I witnessed in my Self. I have since been actively practicing, and sharing these profound and uncommon teachings and have had the great fortune to have studied with true masters from many lineages.
The foundations of my practice and teaching come from a deep and committed practice. Training and certification that I have received include Vijnana Yoga teacher training, Vajrayana teachings in the Tibetan Buddhist tradition, Essential Somatics movement educator training, trauma sensitive yoga, experience based somatic therapy and visionary craniosacral therapy.
My passion is to help others recognize the true essence of who they are and to bring this awareness into compassionate action in the world. Currently, I am being inspired to offer these teachings in retreat format, in locations that inspire and support deeper healing and awakening.
If you are keen to learn more about other transformational retreats, workshops and classes, mentoring and private healing sessions you can join my mailing list on my website.
elizabethclaireburr.ca
Let me know if you would like to join us in this unique and magical retreat.
Registration is OPEN now.

May our practice together benefit all beings!

Love,

Elizabeth


"Love is the name we give to Consciousness when it reawakens to its identity with all things, when it recognizes itself in all things as all things" Rupert Spira